When you steal from white people, that's your business. But when you steal from Black people, that's my business!
So growls badass but ethical Police Detective Ed Coffin (Raymond St. Jacques), who along with his more laid back but equally badass partner Grave Digger Jones (Godfrey Cambridge) protects the Black community in the most successful effort to bring the work of legendary novelist Chester Himes to the big screen: Cotton Comes to Harlem.
The plot: A charismatic, slick, con artist/preacher (Calvin Lockhart) is bilking the good people of Harlem with a phony Back to Africa scheme when gun toting bandits steal the contents of the hefty collection plate. But the hiding place for the missing $87,000 remains unknown, requiring Coffin and Jones to track down the loot while battling with mobsters, Black nationalists, and a femme fatale for the ages (Judy Pace).
Though best known as an actor (see, e.g., my recommendation of The Hill) and civil rights advocate, Ossie Davis occasionally ventured into directing. This 1970 movie was his first effort (he also co-wrote the script with Arnold Perl) and it's a worthy effort indeed. Davis does a fine job both as a storyteller and an extractor of good performances from the actors. What comes through most of all is his feeling for Himes' work and even moreso for the raffish, complex, dynamic, down but never out place that is Harlem. Watching this movie feels like walking through a neighborhood that is alive, and that's a credit to Davis.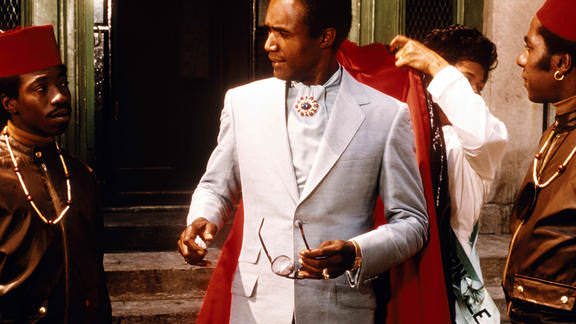 Himes, like Elmore Leonard, was a master of tough, thrilling, action scenes, and Davis nails that aspect of the books as well. Exciting car crashes, gun battles, and fist fights abound as Himes' plot unfolds. Laurels also to costume designer Anna Hill Johnstone for the colorful, stylish, outfits, which jazz up the movie visually and also do right by Himes, who loved to describe in detail how his characters were decked out.
This film is sometimes categorized as a comedy as well as an action film. Himes' books definitely have funny moments, but I think Ossie Davis' only mistake was overdoing that aspect of the story. Some of the attempts at provoking mirth are so broad/slapsticky that they undermine the tone set by the hard-edged action scenes. Other comic elements work better: The scenes where the black characters outsmart white characters in symbolic triumphs over oppression, the protest at the police station which satirizes 1970s politics as well as Python did with the People's Front of Judea, and, of course, every scene with Redd Foxx because he's constitutionally incapable of being less than funny, even when he's not speaking.
But mainly, I would classify this as an excellent action-filled crime melodrama. Hollywood has lately been virtue-signalling about wanting to film more stories about and starring Blacks. I wish they'd put their money where their mouth is and make movies or a prestige television series about Chester Himes' immortal recurring characters, Harlem detectives Ed Coffin and Gravedigger Jones.
p.s. Hollywood's only other effort to adapt Himes' work, A Rage in Harlem, is an above-average film you might like, but I'd rate it a notch below this one.