I'm a fan of the horror and science fiction work of writer Richard Matheson and Producer/Director Dan Curtis, including films on which they collaborated, like the electrifying Amelia segment of Trilogy of Terror (My recommendation here) Their admirers could argue forever about which of their films were the most entertaining, but purely in terms of enduring impact, the obvious choice is their 1972 TV movie The Night Stalker.
Working from an unpublished novel by Jeffrey Grant Rice, Matheson brilliantly met the two challenges of modern vampire movies, namely doing something new, and, having characters behave in sensible ways given that the characters would themselves have all seen vampire movies. The fresh angle to the story is provided by centering the narrative on a crusty yet charming journalist on a downward career slope: Carl Kolchak (Darren McGavin, who's damn near perfect). When bodies of young women drained of blood start littering the streets of Las Vegas, Kolchak and the cops (e.g., a gruff sheriff played by Claude Akins) initially make the assumption that works for modern audiences, namely that a mentally unstable killer thinks he is a vampire. But as the cynical Kolchak investigates the ghoulish crimes and follows the police manhunt, he finds himself believing the seemingly impossible.
There's much to cherish in the movie, which drew a massive audience and launched a cult TV series whose descendants include The X-Files and Buffy the Vampire Slayer. With seasoned television director John Llewellyn Moxley at the helm, the story unfolds with the right mix of suspense leavened with humor (black humor and horror are cousins, but it still takes artistry to mix them in a fashion that isn't jarring). Although Kolchak is in a romantic relationship (with a prostitute played by Carol Lynley, because it's a 1970s film set in Las Vegas) the most dynamic interaction comes between McGaven and Simon Oakland as editor Tony Vincenzo. Together they have the chemistry of an old married couple, with amusing bickering leavened with underlying respect. Film noir fans will also be glad to see Ralph Meeker and Elisha Cook Jr again in supporting parts as friends of Kolchak. And props to Barry Atwater, for being suitably unnerving in a part that gave him no lines.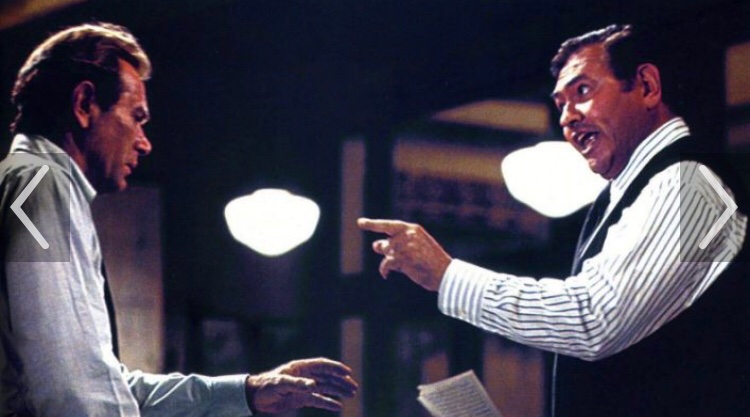 You have probably heard of The Night Stalker, but you will probably not have heard of another Dan Curtis film which I suggested as a second feature on this double bill: his 1968 adaptations of Robert Louis Stevenson's oft-filmed tale, The Strange Case of Dr. Jekyll & Mr Hyde. Curtis produced this version for ABC television, which was directed by Charles Jarrott.
The plot is too familiar to be worth summarizing, so I will concentrate on the unique aspect, which is how the transformation of Jekyll to Hyde is handled. As with the 1973 Curtis/Matheson Dracula I have recommended, the star here is Jack Palance, and he carries the whole film (no disrespect to Denholm Elliott, who is sturdy as his friend, but that part just isn't as intriguing). Only modest changes in the makeup of literature's most famous split personality were employed, with the film relying instead on Palance's acting talent to differentiate the shy, bookish, respectable Dr. Henry Jekyll from the lusty and violent Mr. Hyde. Palance is up to the challenge, including given the audience at least some sympathy with the generally awful Hyde; at least he's a lot more fun than his stuffy alter ego. The other thing that Curtis fans will appreciate is that the style, settings, tone, and music come straight out of his long-running television series Dark Shadows.
The film has some weaknesses. The adapted screenplay was written by Ian McKellan Hunter, perhaps most famous for fronting Dalton Trumbo's Oscar-winning script of Roman Holiday (If you want to know more about fronting, see my recommendation of, well, The Front). Hunter's script is okay, but you have to imagine Matheson would have done a better job bringing Stevenson to the screen. Also, the television sized budget shows at times. It's a bit too obvious that some scenes are shot with a single stationary camera and in the medical school scenes there's also what looks like not entirely successful rear-screen projection, though it could be a not entirely successful matte work (either way, it's distracting). All of that puts the film in the good category rather than the all time TV horror classic category in which The Night Stalker belongs.
If you want to learn more about how Dan Curtis made these films, including how his relationship with Matheson evolved, this interview is really worth watching.