Many film buffs love to rank order films in best ever lists, straining and debating to argue which is #4 versus #3 or #7. I do not put myself through that agony, but am comfortable with more fungible judgments. In that spirit, I am quite sure than any creditable list of the ten best ever British films would somewhere include A Matter of Life and Death.
As World War II was winding down, Michael Powell and Emeric Pressburger were firmly established as cinematic superstars after turning out one gem after another (including my recommendations 49th Parallel and The Life and Death of Colonel Blimp). The UK Government, recognizing that the two most important things in the world are love and Anglo-American relations, approached The Archers (as the team styled themselves) about making a movie that would diffuse tensions between American and British people. The Archers might have accomplished this with a simple story of international romance, but they went well beyond that modest ambition to create one of the most original and beloved works in cinema history.
The film opens with the camera taking the viewer through the cosmos accompanied with lyrical, wry, narration, setting up a damn-near perfect opening scene down on earth. Piloting a shattered, burning, Lancaster bomber trying to return to England, lone survivor Peter Carter (David Niven) calls out desperately on the radio and reaches a lovely, loving American WAAF named June (An achingly endearing Kim Hunter). Peter has heroically told his crew to bail out without revealing that his own parachute is destroyed. He's going to die and just wants to say goodbye to someone and to life. Their connection emotionally overwhelms Peter and June (and the audience), and they are spiritually a couple for a precious moment before Peter, not wanting to burn alive, leaps to his death.
Or does he? Peter's assigned heavenly "conductor" (a funny, flamboyant, Marius Goring) misses the lucky Englishman in the heavy fog! Having miraculously survives what seemed certain death, he meets June in person, to their mutual joy. But the lovers face a grave challenge when heaven seeks to correct the procedural irregularity. Peter demands a right to trial for his life, where he is represented by a kindly physician (that charmer Roger Livesey) against an American prosecutor (Raymond Massey, effectively menacing) who has a deep distaste for John Bull (Understandable in a man who was shot to death by Redcoats 175 years ago).
The Archer's utterly original story is just one virtue of the script, which also includes fulfilling moments of romance, friendship, humor, and meaning. This is combined with gorgeous set design and Jack Cardiff's unforgettable cinematography. The scenes on earth are a riot of Technicolor, and the scenes in heaven were shot in uncolored Technicolor, producing a stylized look reminiscent of the best of German expressionism.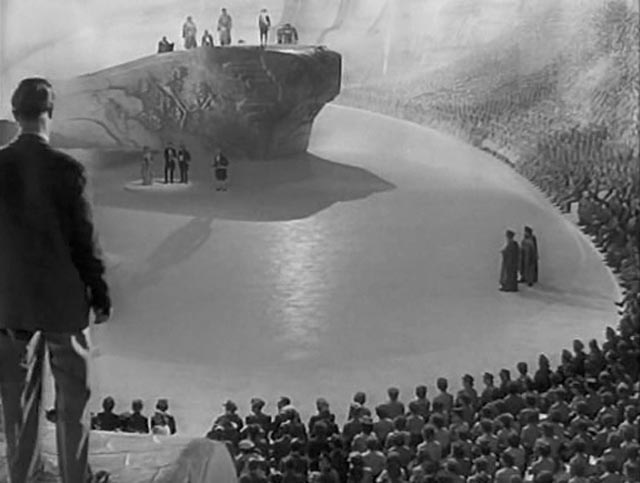 David Niven was not, by his own admission, a great actor, but he was an infinitely charming movie star. He nobly derailed a successful movie career to defend his country during the war; this mega-hit restored his stardom in one go after his years of military service. In the starring role, he's effective enough and he's surrounded by a sparkling cast in top form, many of whom were Powell and Pressburger favorites. They sell the fantasy elements credibly while giving the story the emotional weight it deserves.
This whole movie must have sounded utterly crazy in the pitch meeting. Cinema was moving towards the dark, realistic, themes of film noir, and this is an uplifting, heart-warming, fantasy. The otherworldly sets could have been a visual disaster, a mechanical impossibility, or unintentionally farcical. But the magnificence of Michael Powell and Emeric Pressburger is inseparable from their artistic risk taking. They never played it safe and never repeated themselves. It is precisely because they made the seemingly impossible possible over and over that masters like Martin Scorsese recognize them as fellow giants. A Matter of Life and Death was Powell's favorite of his films and it's easy to see why he was proud of this piece of pure cinematic magic.
p.s. The American distributor was so scared that a film with "death" in the title wouldn't attract war-weary moviegoers, that the US title was changed to "Stairway to Heaven".