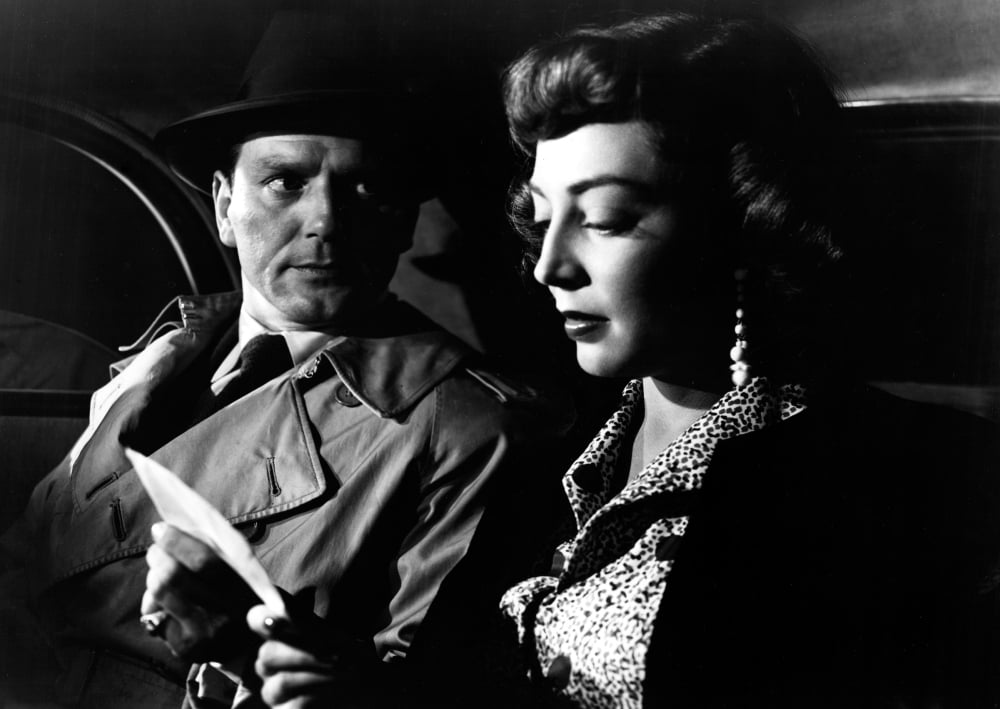 In an era of hundred-million dollar movies that suck, I increasingly appreciate the craft and inventiveness of filmmakers who quickly turned out high-quality films on a tight budget. To supplement my recommendations of B-movie gems like My Name is Julia Ross and Plunder Road, I hereby endorse a nail-biting noir with a no-name cast that was shot in two breathless weeks in 1950: The Narrow Margin.
Based on a story by Martin Goldsmith and Jack Leonard, with a screenplay by Earl Fenton, the movie has a simple, much copied plot premise: Police detective Walter Brown (Charles McGraw) has to make a perilous journey while protecting a former gun moll named Frankie Neall (Marie Windsor) so that she can testify against the mob. Far from being grateful, she's mouthy, sleazy, and denigrating…why can't she be more like the goodly wife and mother in the next train car who catches Brown's eye (Jacqueline White)? And how will he manage the heavies on board who offer him silver or lead?
This film is a triumph for then unknown director Richard Fleischer, who pulled off two impressive feats at once. First, no real budget meant no real stars, yet he got strong performances from the cast end to end. Second, despite 90% of the film being set on a train, it's consistently kinetic and arresting when it could easily have been stagy or dull.
Of the main performers, Marie Windsor, soon to be known as "The Queen of the Bs" makes the strongest impression as a sexy, tough, bad girl. On the surface her character is reminiscent of Vera as played by Ann Savage in another famous low-budget noir that Goldsmith wrote, Detour. But Frankie has more dimensions to her nature than did Vera, as revealed in an intriguing plot development well into the movie. Of the smaller parts, Peter Brocco stands out as a businesslike gangster.
George Diskant masterfully handles the technical challenges of shooting a picture in tight spaces (I also liked his work during the tense opening sequence as Frankie and Walter encounter an assassin before they get on board). Diskant spent his career almost entirely in television and never photographed an A-movie, which is too bad given his fine work here as well as in another well-shot low budget film, Kansas City Confidential (My recommendation here).
After completing this movie so quickly for RKO in 1950, it drove Fleischer crazy that legendary weirdo mogul Howard Hughes became obsessed with it and would not at first release it as shot. Hughes' proposed changes included reshooting the whole movie over again with bigger stars in the lead parts! He finally relented in 1952. Well-received upon release, The Narrow Margin's reputation has only grown since, earning the film a place in every discussion of the best movies ever made on a shoestring.
p.s. Peter Hyams' 1990 remake is an above-average film, but still a comedown from the original.