A woman has seen my face, and yet may love me.
When people recall Universal Studio's famous run of monster movies, they generally think of the fine films that began appearing in the 1930s (e.g., Dracula, Frankenstein, et al). But those talkies are actually the second generation of what producer Carl Laemmle began in the silent era. The opulent Lon Chaney classics The Hunchback of Notre Dame and The Phantom of the Opera did huge box office telling the stories of disfigured, lovestruck, scary, yet also sympathetic monsters. Laemmle wanted to return to the well one more time with a different Victor Hugo novel as source material. Chaney was tied up at MGM, so Laemmle recruited a German actor (Conrad Veidt) and director (Paul Leni) steeped in that nation's expressionist film tradition to create a unique treasure of the genre: The Man Who Laughs.
The plot of this 1928 gem: When an English nobleman refuses to submit to the King, he is put to death and his only child, Gwynplaine, is turned over to a horrific gypsy clan (For which Victor Hugo created the term "Comprachicos") that mutilates the young to turn them into profitable circus freaks. Gwynplaine's face is carved into a permanent, ghastly, grin and he is abandoned. As he walks alone on a wintry night (This is my favorite expressionist shot in the movie, see below) he discovers a blind baby girl in the arms of her dead mother. Miraculously, the starving and half-frozen children are taken in by a kindly travelling entertainer named Ursus (Cesare Gravina). Grown to adulthood, the lovely, gentle, Dea (Mary Philbin) and Gwynplaine (Veidt) perform in Ursus' plays, in which Gwynplaine becomes famous as "The Man Who Laughs". The two also fall in love, but Gwynplaine cannot believe that Dea would want to marry him if she could see his bizarre visage. Meanwhile, a royal advisor (Brandon Hurst in a wonderfully wicked performance) finds out that Gwynplaine is the last surviving heir of a Lord, which presents threats and possibilities for court intrigue, particularly regarding a lustful, wayward Duchess (Olga Baclanova).
This is a visually stunning film, because of the haunted camerawork of Gilbert Warrenton, the art direction of Charles Hall, Thomas O'Neill, and Joseph Wright, the expressionist sensibilities of Leni, Jack Pierce's make-up wizardry, and Laemmle's willingness to open the checkbook for sets, props, and a cast of thousands just as did on his Lon Chaney films. Released at the end of the silent era, this film could easily have been a talkie, except that with his prosthetic teeth and grin, Veidt could not speak clearly. The filmmakers compromised by adding a synched soundtrack with rich music, some sound effects, and a love song to accompany the visuals.
As in another of my recommendations, The Cabinet of Dr. Caligari, Conrad Veidt demonstrates that a great actor does not need words to convey a range of emotions. But that understates his achievement, because Veidt makes the audience feel Gwynplaine's sadness, love, fear, and self-hatred despite having only half of his face available to him. Of many good performances in the film, many of them delivered by veterans of the Lon Chaney films, the other that stands out for me is Olga Baclanova's. Her role as a sexually assertive aristo is a reminder that prior to the Hayes Code and the rise of domestic dramas after World War II, movies dealt with women's sexuality far more candidly than they did for decades afterwards.
A couple of the plot developments aren't motivated quite convincingly, but J. Grubb Alexander's adaptation of Hugo's novel more than makes up for it with its humanity. This is particularly true in a heartrending scene in which the circus performers go to extraordinary lengths to try to convince Dea that Gwyneplaine is still near her when in fact he is imprisoned.
I will close by sharing two other wonderful things to know about The Man Who Laughs. First, it has been beautifully restored. Second, it is in the public domain and you can watch it for free right here.
p.s. One person who took inspiration from this movie was Bob Kane, creator of Batman.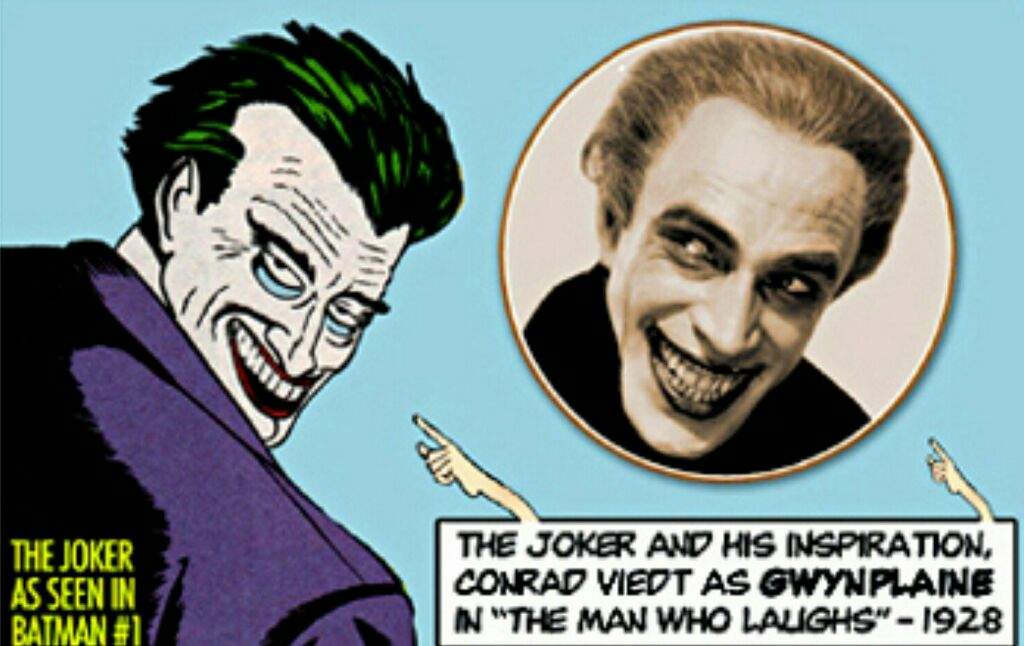 p.p.s. I wonder if when this film was shown in Britain in 1928, the audience laughed at one character's expressed outrage at the thought of the House of Lords admitting a clown.