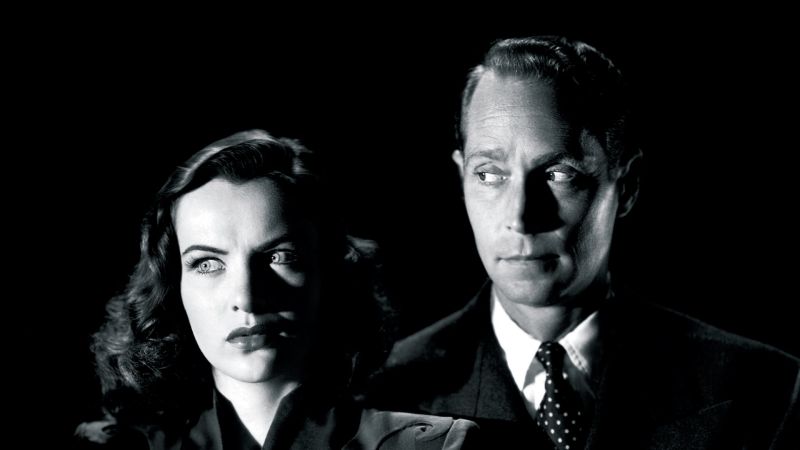 Some Hollywood films today make a painfully self-conscious effort to have a "strong woman" character. The screenwriter gives her some dialogue with the male lead in which she says something cringeworthy like "You don't have to take care of me, I'm a strong woman!", the actress mentions in her press interviews that she "was drawn to the chance to play a strong woman", and the director avows at the awards ceremony that, "as a feminist and ally, I wanted to have a strong woman character for a change". In film noir, in contrast, women characters were routinely tough, smart, ruthless, lusty, or violent not because anyone was trying to make a statement, break the mold, or virtue signal for critics, but because that's just the way it was. A fine example of this principle, as well as all the other core elements of classic noir, is Robert Siodmak's Phantom Lady.
Based on a Cornell Woolrich novel, this 1944 film tells the story of an innocent man named Scott Henderson (Alan Curtis) who is convicted of murder because his only alibi is a "phantom lady" (Fay Helm). He meets her at a bar, impulsively takes her to the theater, and parts with her afterwards, all of which interaction is witnessed by many people. Yet when Police Inspector Burgess (Thomas Gomez) investigates Henderson's story, no one remembers her, and Henderson himself says that he never asked her name. Henderson looks guilty and perhaps out of his mind as well, but Carol Richman (Ella Raines) who loves him, believes his story and embarks on a perilous effort to find out the truth. She hits several very dead ends, but then Henderson's mysterious old friend Jack Marlow (Franchot Tone) returns to town and pledges to help find the real killer.
Ella Raines owns this movie, outshining the male leads with presence and verve (Not to diminish the solid supporting work by Gomez, who was also in another film noir I recommend, Ride the Pink Horse, and by noir staple Elisha Cook Jr.). She's credibly tough and smart, and in the justifiably famous drumming scene with Cook and a hot jazz combo, sexually potent as well. Raines had a terrific 1944, with five films in theaters, including another excellent Siodmak work (The Suspect with Charles Laughton). She was much in demand until not long after she made another of my recommendations, The Web, in 1947, at which point she transitioned to only occasional movie and TV work. I believe this was because she married and started a family, but from the purely selfish viewpoint of a film fan, it was a loss.
The other key presence here, unsurprisingly, is Siodmak, who with the possible exception of Anthony Mann did the most over his career to define the film noir genre. Siodmak is most remembered for Burt Lancaster's legendary debut film The Killers, but he made many other excellent films, my favorites being this one and the noirish thriller The Spiral Staircase.
Siodmak's German Expressionist artistic roots serve him well here, including in his compositions and lighting choices (e.g., of Tone's hands). I also love his offbeat decision to show Henderson's murder trial entirely through the reactions of the courtroom audience, with the participants being only off-screen voices.
Siodmak is aided immeasurably in his efforts by cinematographer Elwood "Woody" Bredell, who also worked with him on The Killers. Bredell is not well-known, but he was a key contributor to noir style. Credit for the memorable look of the film should go as well to the art directors (Robert Clatworthy, John B. Goodman) and set decorators (Russell A. Gausman, Leigh Smith), particularly for Marlow's surrealistic sculpting studio.
Phantom Lady has a few implausible elements in its plot, but they are no match for the assured stylishness of Siodmak's direction and Raines' performance. Even in what was a powerhouse year for film noir, Phantom Lady stands out as a must-see of the genre.