The hit British comedies of the 1950s and 1960s don't age consistently well. Just about everything from Ealing Studios holds up today, but outside of that, it's hit or miss. I don't doubt that the The Knack…and How to Get it and the comedy-drama Billy Liar made audiences roar with laughter at the time (at least to the extent British audiences ever roar with laughter), but for me at least, they don't generate more than the occasional smile. In contrast, I laughed out loud repeatedly while watching the film that was number one at the British box office in 1959: I'm All Right Jack.
Based on Alan Hackney's comic novel, the film stars Ian Carmichael effectively playing (what else?) a well-meaning innocent baffled by the people and world around him. His Stanley Windrush is a kind but rather useless upper-class chap who longs for a meaningful job after his father (Miles Malleson) retires to a nudist colony. Following a series of amusingly disastrous job enquiries, Stanley's uncle and two old army friends (Charming rogues Dennis Price, Richard Attenborough, and Terry-Thomas) get him a factory job. His Aunt Dolly (that acting treasure, Dame Margaret Rutherford) is none too keen on Stanley mingling with the working class, but he enthusiastically plows forward nonetheless. His work ethic at the factory, far from being appreciated, generates a furious reaction from shop steward Fred Kite (Peter Sellers) and his fellow work-to-rule layabouts. Stanley is not sure he's cut out for life in a unionized workplace, until he meets Fred's curvaceous daughter Cynthia (Liz Fraser) who toils in the plant as (cough) a spindle polisher. Hilarious machinations by slimy corporate executives, soft-headed labor activists, and a romantically inclined Stanley ensue.
In the 1950s, Peter Sellers was a radio star from The Goon Show, but had only played small parts in movies (e.g., The Lavender Hill Mob). At the decade's close his cinematic career suddenly went into orbit with the release of The Mouse That Roared and I'm All Right Jack. Verbally and visually, he's as funny as you would expect here, but he also creates a complete character. His Fred Kite is forceful and confident outside the home but lost and helpless within it, with a wife (Irene Handl) and daughter who run rings around him. Sellers also appears as Sir John in a funny opening bit unrelated to the main story, presaging a number of other films in which he skillfully played multiple parts.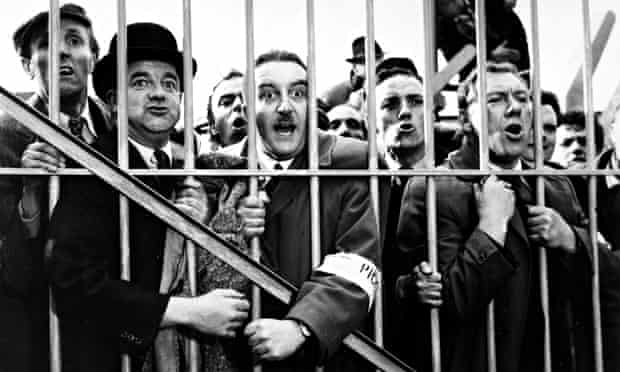 This light-hearted film was made by the Boulton Brothers, and is a million miles from their famously nasty 1947 noir Brighton Rock (my recommendation here). Beginning in the 1950s, they made a series of popular comedies lampooning the British Establishment (e.g., academia, the military, the legal profession). The brothers were committed socialists, but clearly not of the pious and scowling sort: I'm All Right Jack satirizes trade unions as effectively as any movie in British cinema history (not that management is spared a skewering). With lines like "We can't concede the principal that a worker should be fired for incompetence, that's victimization" this film feels a bit like a precursor to Monty Python's immortal People's Front of Judea. The Boultons were particularly gifted at overtly lionizing institutions while implicitly making them ridiculous, as in the sequences here that mime the self-serious "British industry leads the way!" style narration used in newsreels of the period.
p.s. This is actually a sort of sequel to Private's Progress, a prior Boulton Brothers adaptation of Alan Hackney's writings in which Carmichael, Price, Thomas, Malleson, and Attenborough all played the same characters. It's an entertaining flick, but I'm All Right Jack surpasses it.