There's an old jibe that "They don't make movies in Hollywood, they remake them". But sometimes they remake them so bloody well that audiences can't help but stand up and cheer (see for example my recommendation of the Casablanca recycle job To Have and Have Not). A pluperfect example is the 1940 swashbuckler The Sea Hawk.
Let me clarify what was really being remade. Rafael Sabatini's novel had been filmed before under the same name in 1924. That silent classic featured purpose built, full size replicas of battling sailing ships that were so realistic that they were spliced into many subsequent movies, including this one. But the origin of the 1940 adaptation of The Sea Hawk lies with a 1935 adaptation of a different Sabatini book, Captain Blood (my recommendation here). That film made Errol Flynn a superstar and Warner Brothers a mint, so they immediately planned to rework roughly the same story elements into a new pirate movie again starring Flynn, co-starring Basil Rathbone (though he declined the role), and directed by Michael Curtiz. The studio had a script draft as early as 1936, but Flynn was committed to a long line of films at that point, a number of them directed by Curtiz (including my recommendation The Adventures of Robin Hood). It was thus several years before Flynn and Curtiz could make The Sea Hawk, but it was well worth the wait.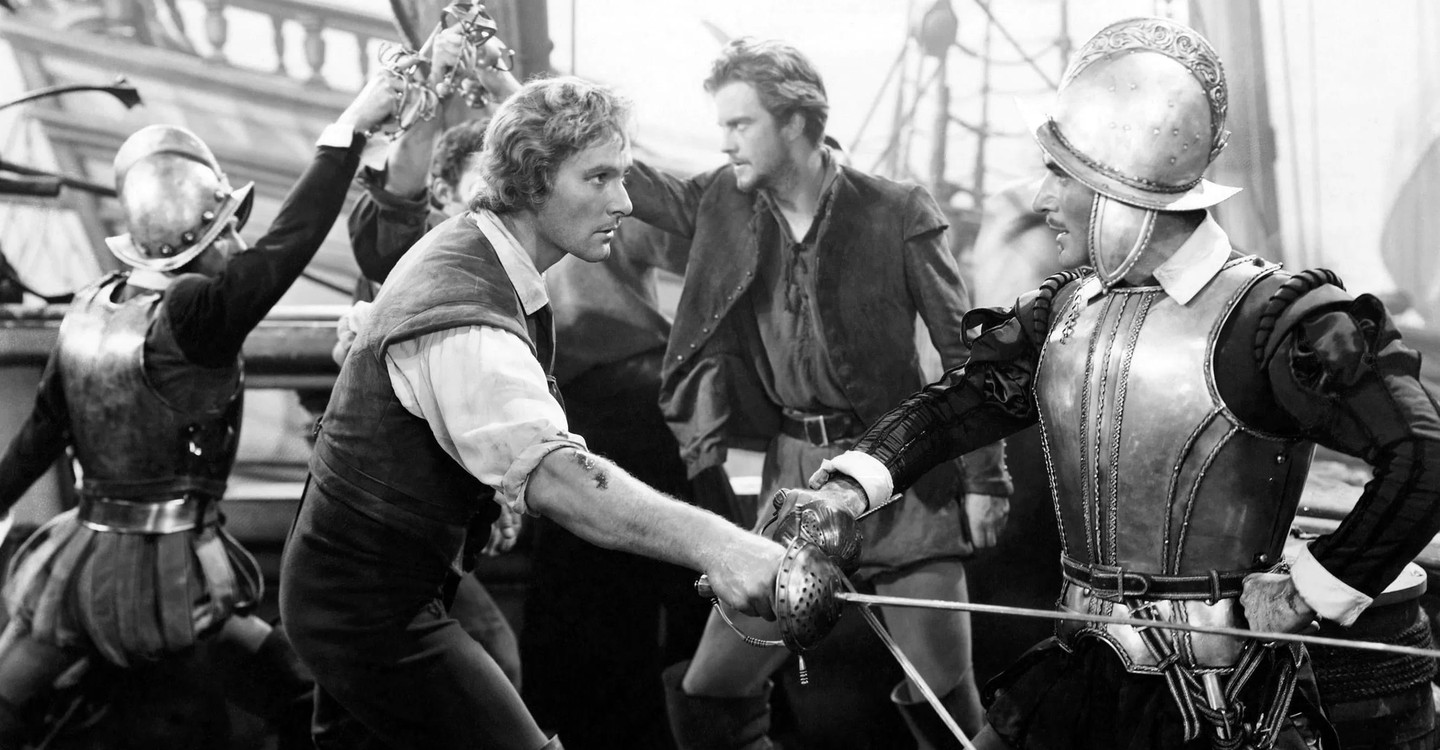 The plot: Unlike Captain Blood, in which Flynn starts out as a slave, becomes a notorious pirate, and then has a climactic tussle with his enemies, in this film he starts out as a notorious pirate, becomes a slave, and then has a climactic tussle with his enemies. Also unlike Captain Blood, in which he had an achingly unconsummated extended flirtation with a beautiful, high-born, English woman, in this film the woman is only half-English. You get the idea.
More seriously, there is one big difference between the two films, which resulted from the start of World War II. In the Sea Hawk, Hitler is thinly veiled as the King of Spain, a ruthless seeker of global domination. And in the movie's best performance, Dame Flora Robson as Queen Elizabeth gives a rousing speech about defending freedom that could have come out of Churchill's mouth.
Brenda Marshall plays the love interest this time around, but the film didn't launch her to stardom as did Olivia De Havilland's pairings with Flynn (Though one of Hollywood's most eligible bachelors, William Holden, clearly took notice: they married the following year). Marshall isn't given a lot to do beyond looking lovely. If you want to see a movie where she gets a chance to show off her acting ability, check out my recommendation Strange Impersonation.
Claude Rains and Henry Daniell fare better as a couple of rotters, each played in their signature style, more charming for the former and more menacing for the latter. In the part that Rathbone declined, Daniell is just as good except that he couldn't fence at all (Rathbone was a master swordsman). A double was smoothly spliced in for his extended duel with Flynn and it works just fine.
As for Flynn, he's okay here but seems a tad less energetic than he was only a few years before; perhaps his health, never as good as the publicity machine made Americans believe, was starting to fade. But he certainly has enough gusto to keep the audience engaged, and he gets expert supporting help from many solid character actors, including Alan Hale, Una O'Connor, and Gilbert Roland.
Of course a swashbuckler lives and dies by its action scenes, and The Sea Hawk's are epic in scope and brilliantly executed. The big budget shows as does the ability of the autocratic Curtiz to get armies (er, navies) of actors to do his bidding. Cannons boom, swords flash, buccaneers swarm, and ships cavort on the high seas. The Sea Hawk is a ripsnorting adventure, the fact that it was another trip to the same well notwithstanding.
p.s. My recommendation is based on the 127 minute version. Shorter versions sometimes appear on television.
p.p.s. In case you are tempted to adjust your screen settings, the sepia tint in the scenes in Panama was in the original film.