How many movies have featured a group of old friends coming together and reflecting on their lives because one of their circle has died (e.g., The Big Chill, Husbands)? And how many times have Michael Caine, Tom Courtenay, Bob Hoskins, and David Hemmings portrayed British blokes like themselves who weren't born with a silver spoon in their mouths? And how many times has Hellen Mirren played an intelligent, sensual woman with a mixture of strength and vulnerability? Did writer/director Fred Schepisi really think audiences would fall for a movie that recycles all that for the umpteenth time? Bless his cotton socks, he did, and the result is a quiet cinematic gem from 2001 that deserved a bigger audience than it got: Last Orders.
The plot: Three long-time friends gather in their Bermondsey pub with the cremated ashes of their mutual friend Jack (Michael Caine). Jack was a butcher and the son of a butcher, who leaves behind his wife Amy (Helen Mirren) and his adopted son Vince (Ray Winstone), who refused to follow Jack into the family business and instead opened a car dealership. Amy and Jack's also have another child, June (Laura Morelli), who was born with profound intellectual disabilities. Jack refused contact with her, but Amy has been dutifully visiting her daughter at a group home once a week for 50 years. Jack left instructions for his ashes to be scattered into the ocean at Margate. Amy doesn't wish to go, so his four friends set off without her, with Vince driving them in a Mercedes from his lot. The friends are Ray (Bob Hoskins) who served with Jack in World War II and has a talent for picking horses, Vic (Tom Courtenay) who runs a funeral home with his sons, and Lenny (David Hemmings) a boozy and somewhat irascible ex-boxer whose daughter Sally (Claire Harman) was long ago wooed and then abandoned by Vince. As the men travel to fill Jack's last request, we learn about their lives through their interchanges at various stops along their journey as well as from flashback scenes of their younger selves.
Schepisi did a remarkable job fashioning this script from Graham Swift's novel, incorporating just enough remembered and experienced action and conflict to keep this from becoming dull and overly talky. He was aided immeasurably by his experienced acting ensemble, who evidence that characteristic British willingness to share the stage that American movie stars often lack. Each uses the time Schepisi gives them to create a believable character with defects and virtues. The younger performers in the flashback scenes are also fine; casting director Patsy Pollock deserves credit for finding newcomers who look remarkably like the older stars. Brian Tufano's cinematography and Paul Grabowsky's music are also significant assets.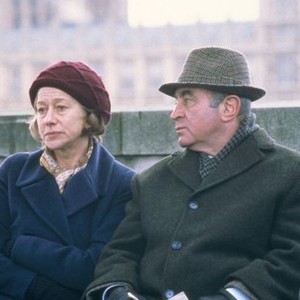 Schepisi delves into existential questions about love, family, trust, betrayal, grief, and friendship but to his credit he doesn't offer pat answers. Some people's lives (e.g. Vic's) work out pretty well for them and theirs, others (e.g., Lenny's) far less so, and in the end we don't really know why. Marriages can be terribly disappointing in some ways and extremely enriching in others. People can love each sincerely yet also let each other down. And through it all, we have to keep buggering on.
I appreciated this movie as an affecting drama, but also admired it as a piece of sociological history: it's a vivid adumbration of how a particular generation of British men of a particular social class travelled through life. And who better to bring this across than Caine, Courtenay, Hemmings, and Hoskins, who opened up British acting to lads who weren't born to the purple?
p.s. Some Americans to whom I have recommended this film struggled to make out some of the accented dialogue, so if that's likely to be a challenge for you, you may wish to stream it with English subtitles.