I make no secret of my disdain for flabby filmmaking. Many modern movies (e.g., almost every superhero movie of recent years) would be significantly better with a merciless edit of tiresome exposition, distracting subplots, saggy scenes, wordy dialogue, soulless CGI, and other forms of artistic bloat. I can hear the whines already "But I need that 30 minutes to show how the hero's motivation goes back to his childhood trauma, to explain that his energy blaster works on the principle of microwave amplification by stimulated emission of radiation, and to have the authority figure character explain what the film is really about in his closing speech". Stuff and nonsense. When films had smaller budgets and shorter shooting schedules, their makers were more economical in their storytelling by necessity, but the result was better rather than worse cinema. If you want a demonstration of that principle as well as an utterly gripping cinematic experience, check out the 94 thrilling minutes of fat-free brilliance in Seven Days to Noon.
Based on an Oscar-winning story by Paul Dehn and James Bernard, this 1950 film has a simple and terrifyingly realistic premise: a once-reliable military scientist could lose his head and decide to steal a powerful weapon. Said scientist, Professor Willingdon (Barry Jones, offering a compelling mix of threat and vulnerability), believes he can promote world peace by threatening to set off a powerful bomb in the heart of London in seven days if the government doesn't renounce weapon building. A dedicated member of Special Branch (the ever sturdy Andre Morell) recruits Willingdon's daughter Ann (Sheila Manahan) to aid him as he coordinates a national manhunt. But Willingdon is a crafty adversary, and hides in plain sight by taking rooms under an assumed name with a brassy London actress (a terrific Olive Sloane). Nail biting suspense and existential themes follow.
Roy Boulting and Frank Harvey's tight script combined with the Brothers' Hitchcock-level use of pure cinema, make this a truly breathless thriller, one of many that would channel post-war nuclear anxieties. The hero has no backstory because he doesn't need one. The precise mechanics of the McGuffin are never laid out – it's a bomb and we all know what a bomb is, so why bother? Willingdon doesn't really explicit his motives until 75 minutes in, and even then there's not an excess word in them. And many plot developments unfold entirely through a series of images or through effective quoting of superstar composer-to-be John Addison's first score. At times it feels like watching the best of the silents, and I mean that as the highest of compliments.
The Boultings avoided casting big stars, used some real locations, included colorful snippets of Londoners, and did not tart up the sets to look like anything more than battered, post-war London (Similar to what Sir Carol Reed had done the year before in Vienna while making The Third Man). This at times gives the movie, particularly the daytime scenes, the feel of Italian neorealism or an American police docudrama. But with its air of impending doom and Gilbert Taylor's night time cinematography, it at other times has a more stylized, film noir feel. Of Taylor's many arresting visuals, I will not forget any time soon the shots of Willingdon praying alone on his knees in a bomb-shattered cathedral. The realistic and stylized elements work together beautifully, recalling another brilliant "dangerous man on the run" movie from this period, He Walked by Night (recommended here).
I have recommended the Boulting Brothers' tough film noir Brighton Rock and their sidesplitting I'm All Right Jack, but for me, their most remarkable achievement remains Seven Days to Noon. This film riveted me and at other times made me say "Wow" out loud. That the Boultings could make such different movies so skillfully is why they, while less famous than the legendary Powell and Pressburger, rank among the best British filmmaking partnerships of the 20th century.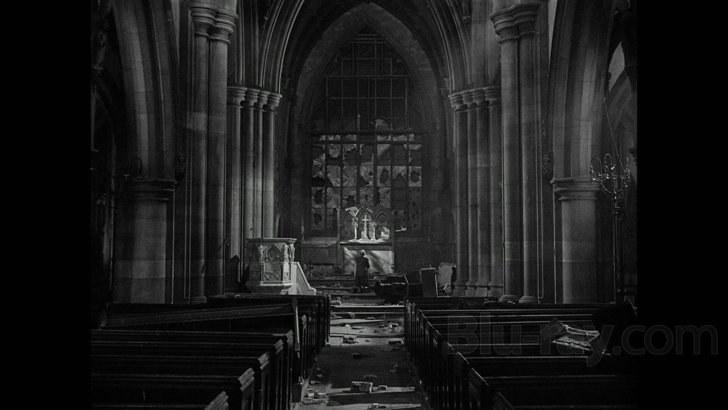 p.s. Gilbert Taylor lived to be nearly 100 and nearly three decades after this, was the cinematographer for Star Wars.